Welcome to the Website for Our Lady Immaculate Catholic Church, Westbourne.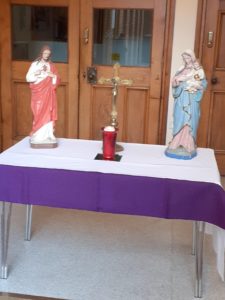 As the church is now closed a simple 'shrine' has been placed in the entrance lobby, visible through the glass doors. If you are out on your allowed exercise or shopping trip and happen to be passing the church do stop for a moment to say a prayer.
At this challenging time we continue to be the Church, not a building but a community of faith and mutual love united in spirit and in prayer.
Fr Andrew will continue to say mass privately and the Lord continues to grace us with his presence as the Blessed Sacrament remains in the church .
Additional pages have been added to this site which may be helpful. They include spiritual resources (which includes details of Live Streamed masses), a Sunday homily, a blog by Fr Andrew and of course the newsletter. Please check in regularly for the latest.
A 'Thank you' to those who are using the 'Donate' button on the website. The 'Donate' button has the facility of adding a reference and also the option to Gift Aid any donation. Any donation with no specific reference will be treated as ordinary offertory.  The donate button can therefore be used  for a mass intention (mark the reference 're: xxx but also email or phone the office to request an intention). The parish's bank details are set out below for those who may wish to take out a standing order.
Bank:                           Lloyds
Account Name:           PRCDTR Bournemouth Our Lady Immaculate
Sort Code:                   30-93-04
Account Number:       00875075
The Parish Office will be physically closed but will remain operational.
                             Tel: 01202 760640
                             Email: oliadmin@portsmouthdiocese.org.uk
Fr Andrew may be contacted directly by email at:
                              andrewmoore@portsmouthdiocese.org.uk
We remember in our prayers all Health workers, those who have been directly affected, remembering especially those who have died.