Sunday, 4th April, 2021
Easter Day. The key word in today's liturgy and musical settings is 'Alleluia!' It is well treated in this setting of the text 'This Day was made by the Lord. Let us rejoice and be glad, Alleluia' by the English composer William Byrd.
The blog has become rather intermittent of late and after a full year it may well have served its purpose and the well runs a little dry. So this will be the last entry unless need arises.
Sunday, 28th March, 2021
Bach wrote musical settings for both St Matthew's Passion and St John's Passion and both are well-known. What is perhaps not so well known is that he also wrote a setting of St Mark's Passion, the one we have on this year's Palm Sunday. Alas, the music he wrote is lost, only the libretto survives. However, scholars have attempted to 're-construct' what he might have written using material from his cantatas. Here is a sample:
Monday, 22nd March, 2021
Monday of the Fifth week of Lent sees the wonderful story from the Book of Daniel of Susannah, wrongly accused of adultery and how her accusers are caught out by Daniel's cross examination. It is the longest first reading in the whole of the liturgical year. It is paired with the gospel reading of the woman caught in adultery and how Jesus writes on the ground – perhaps writing the sins of those calling for her to be stoned. The short moral of both stories is, is course, 'judge not lest you be judged yourself' – a moral sadly not heeded by those who rush to twitter condemnation.
Sunday, 21st March, 2021
Today, being the start of Passiontide, our focus turns towards the Cross. An interesting thought: the word 'Cross' in German is neuter (Das Kreuz) but in all other Latin-based European languages, the word is feminine – La Cruz, La Croce, La Croix.
Here is John of Portugal's setting of Crux Fidelis:
Tuesday, 16th March, 2021
It is exactly one year since I last attended what one might describe as a social gathering. It was the funeral of a nun, a concelebrated requiem mass and a bun-fight afterwards. So much has changed since then and, going forward, some things will never be the same again. Today's readings – the story of the small trickle of water emanating from the Temple becoming a great river in flood (Ezekiel) and the gospel story of the man frustrated in his attempts to be healed at the Temple pool but given his health by Jesus (John) – both beautiful stories in themselves, give us a reason for optimism. Things may be different but, like a new season, there will be opportunities for new growth and new fruitfulness.
Sunday, 14th March, 2021
During Lent the Marian antiphon is Ave Regina Caelorum a fitting piece to have on the Fourth Sunday (Laetare) Sunday of Lent and Mothers's Day. Guillaume Dufay was a 15th century French composer.:
Friday, 12th March, 2021
Occasionally the gospel gives us one of Jesus' short sayings that really sums up everything. Today we have: "You must love the Lord our God with all your heart, with all your soul, with all your mind, and with all your strength and you must love your neighbour as yourself." Love of God and love of neighbour are not two separate things but two sides of the same coin. They were two separate things in Jewish tradition but it was Jesus who brought them together.
Tuesday, 9th March, 2021
We can rejoice in a lovely sunny day but better make the most of it as the forecast for what is to come is not so good. That's true of today but it might also have been said of a sunny wedding day in 2018. As one of the headlines puts it: It's sad that it has come to this. Today's gospel passage sees St Peter ask how often he must forgive his brother – a passage that will make for difficult reading in some quarters.
Sunday, 7th March, 2021
Today's gospel story of Jesus cleansing the Temple shows a vigorous, determined and uncompromising Jesus, a long way from the soft-focus Jesus of holy pictures. Yet this is the Jesus that El Greco captured in his well-known painting of this event. It's worth spending a few moments studying it. Quite a contrast from last Sunday's picture of the Transfiguration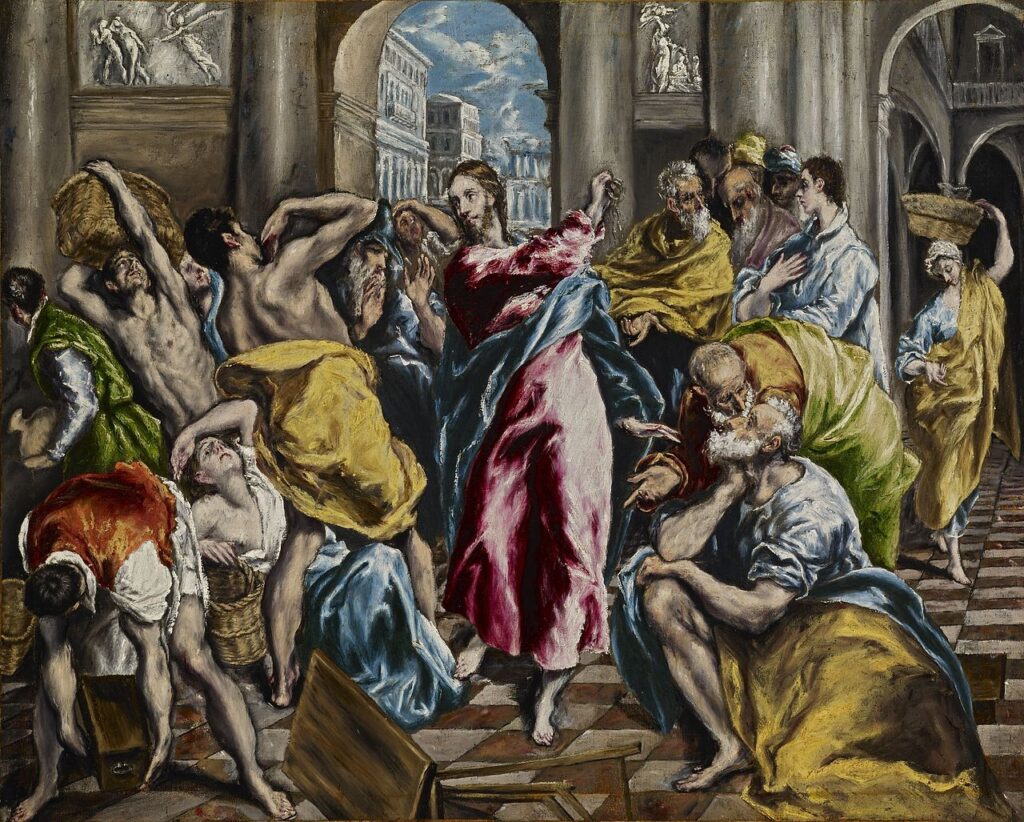 Thursday, 4th March, 2021
Some gospel passages are encouraging, prayerful or hopeful but there are some which are a little more challenging none moreso than today's. The story of the rich man and Lazarus makes for uncomfortable reading. The rich man is the villain of the story not so much because he didn't give but because he didn't notice the poor man. That is the challenge: what is it we don't even notice? But we have this story today, not to make us uncomfortable but because of the other element in the story, which is the potential power of someone coming back from the dead. This is a story that pre-figures the resurrection and what it will bring. With the Lenten road still stretching out in front of us we need this jolt to our sensitivities towards others but also a focus on what comes at the end of Lent, the Resurrection.
Tuesday, 2nd March, 2021
In the weekend papers and supplements many of the columnists wrote, yet again, about their experience of the lockdown – there being actually little else to write about. We are all living in this rather isolated / isolating experience and it is easy to think that we are alone in doing so, to think of it only from our own perspective, to imagine we are the only ones who have tidied out the cupboards for the fourth time and watched Poirot so often that we could write out the script. But hopefully the sense that we are all in this together, all experiencing the same frustrations, challenges and uncertainties might just help to bring society that bit closer together when we do finally emerge. Not entirely sure it will but there's no harm in hoping, although a walk along the beach yesterday having to avoid cyclists and scooters hurtling by at great speed is not that encouraging.
Monday, 1st March, 2021
The pandemic has rather highlighted the fact of there being four distinct governments or administrations. They are all doing the same thing but with some variations. Today is a day for the people of Wales to celebrate their unique identity on the feast of St David and for those of us with no Welsh heritage to wish the principality a strong recovery. The Welsh are unique in having a patron saint who was actually a native of the country.
Sunday, 28th February, 2021
No music today but a picture. Today's gospel is the story of the Transfiguration. This picture is of a painting by the baroque artist Andreas Wolf of the Transfiguration in the Austrian Benedictine Abbey of Kremsmunster, which I have often visited.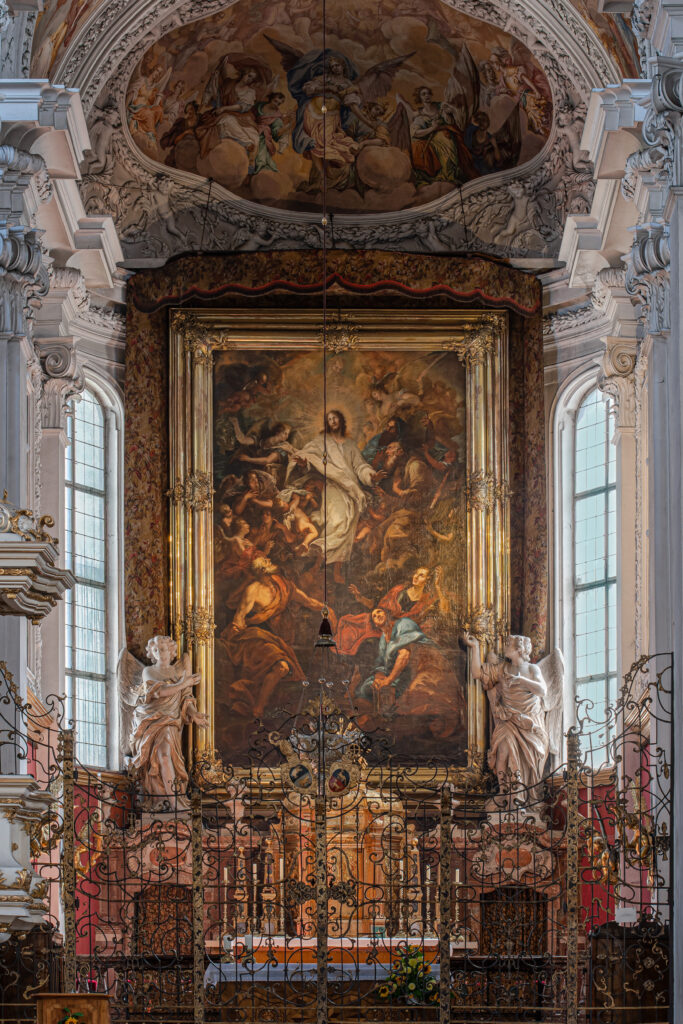 Friday, 26th February, 2021
Yesterday, we saw the Golden Rule in the short gospel passage: "always treat others as you would like them to treat you". I think it unlikely that Her Majesty read my blog but it is good to see that she picked up on what our Lord said when she encouraged people to think of others before themselves when she made some comments about vaccine-hesitancy.
Thursday, 25th February, 2021
Today's gospel passage is quite short but it contains an ever shorter passage often referred to as the 'Golden Rule': "always treat others as you would like them to treat you." Although this may seem self-centred it starts with other-orientated action. One can think of many who need to hear this message: those who make nuisance phone calls, send spam emails, create scams and so on. Sadly, the list is endless. But, of course, we never hear about the millions who do put the Golden Rule into practice.
Tuesday, 23rd February, 2021
Why do the media go so overboard? The Prime Minister was quite clear that the road map will be governed by data not dates, that every step along the road will be subject to cautious review of the data against four clear tests, and that there are many 'ifs' along the way. However, every front page this morning says all restrictions will be removed by June 21st. What the Prime Minister actually said was that June 21st was the earliest that social distancing rules might be lifted, not will. The media have been critical of the Prime Minister in the past for overpromising and over optimism; now it' seems it's their turn. It would be lovely if, by the end of June, we do feel safe enough but it's not set in stone.
Sunday, 21st February, 2021
I may have put this up before but this psalm setting of mine is appropriate at this early stage of Lent. Psalm 50 is one of the Penitential Psalms. The middle section, which asks for the gift of the spirit makes use of the plainsong Veni Creator Spiritus.
Friday, 19th February, 2021,
They say buses come along in threes, which is actually quite often the case in London. Now it is spacecraft. Three vehicles have made it to Mars in the last few days and last night saw an impressive landing. The technological skill involved in these endeavours is a testament to the human capacity which, sadly, is not always used to best advantage here on earth. At the time of the Moon landings it would not have seemed too fanciful to imagine there would be well-established colonies on the Moon or Mars by 2021. It will be interesting to see what they find.
Ash Wednesday, 17th February, 2021
Remember you are dust and unto dust you will return.
We may not be able to have the physical distribution of ashes today but the sentiment behind the gesture and the impact of those words is nonetheless relevant as we begin our Lenten journey. The pandemic will perhaps bring this Lent into sharper focus but, as ever, Lent is never an end in itself but a road to be walked towards the joy that Easter brings.
Tuesday, 16th February, 2021
Our local surgery seems to be ahead of the game. I was called for a vaccination last Saturday (I'm in group 5) and the process was very efficient. The leaflet outlining possible side-effects was bang on. I woke with a sore arm the next day and felt decidedly fluey for a day but now right as ninepence. The vaccination is, of course, an important weapon in the armoury but it is not a freedom pass or a cure all. So, continued vigilance is set to continue for some time yet. The milder weather seems to have woken up the birds. There was an unusual amount of delightful bird singing to be heard yesterday afternoon walking down Marlborough and Portarlington Roads.
Sunday, 14th February, 2021
Today will be our last 'green' Sunday and with it we will say goodbye to 'Alleluia', which will next appear at Easter. The word 'Alleluia' means 'Praise the Lord', a sentiment which will, of course, continue but the florid musical settings will be stood down. Plainsong settings of the 'Alleluia' are 'melismatic' in character. A 'melisma' is when many notes are sung to a single syllable. This Sunday's plainsong alleluia, for example, has thirty-six notes to the final '-ia' syllable. The American composer Eric Whittaker has a fine setting – quite long – but worth contemplating on the meaning of the single word.
Thursday, 11th February, 2021
Much talk about holidays (or not) on the news and in the papers. I'm sure we would all like to go off to some sunnier climes, see different sights etc but the moment you start thinking about all the practicalities that are likely to be required (and the expense) it becomes less of an attractive proposition. We may have to experience travel vicariously for a while to come. Rick Stein's travels through France (on the TV at the moment, albeit as a repeat) have been a welcome diversion. Google earth can also whisk you off to the other side of the world. I recently took a 'drive' around the French Polynesian island of Moorea (= A. Moore) – lots of small catholic churches surrounded by palm trees and lush vegetation – but no jet lag.
Tuesday, 9th February, 2021
The lockdown has given many of us extra time to do some of things that we might have been putting off. In the first lockdown I had a blitz on some of my old paperwork clearing out a lot of unnecessary clutter (did I really need to keep my school reports?). This time round I have set to on papers relating to my parents (do I really need to keep their old passports?) and the bigger challenge of sorting through three generations worth of old photographs. Hard copy photos will become a thing of the past as most photos are now digital (and too many!). The process of sorting and writing names on the back is time consuming but necessary as I think I'm the only one who can identify great uncles and aunts. Inevitably some hard choices have to be made as that which was once thought important has to be discarded. But there is some liberation to the process as well. With Lent fast approaching there's an opportunity for some internal clearing out to do as well.
Sunday, 7th February, 2021
Elgar is best known for his orchestral music and, of course, for the Dream of Gerontius which drew on his Catholic heritage. He did write some lovely shorter pieces for choir for liturgical use. Surprisingly he wrote no mass settings but this fine O Salutaris Hostia would have been sung at Benediction. I may have mentioned before that in used to tend his grave when I was parish priest at little Malvern.
Saturday, 6th February, 2021
What a joy to be able to walk out without an umbrella and to see gorgeous blue sky. There may be a heavy frost but it doesn't seem too cold. A day to enjoy. Other parts of the country may be in for rather harsher conditions but here on the coast it looks favourable and will help to lift spirits at this continuing difficult time.
Thursday, 4th February, 2021
The Today programme this morning was exercised about the delay in establishing forced quarantine for those arriving from outside the UK. I'm sure many of us would not relish the prospect of being stuck in a hotel room alone for a fortnight (though some might feel we are all in a similar situation, albeit with a few more creature comforts). By chance, this morning I received an email from a friend of mine who is in exactly this situation in New Zealand. After some months he has finally been allowed to travel to join his wife but on arrival is in strict quarantine. Here are his thoughts:
"The general expectation emerges that managed isolation is somehow to be feared, of being condemned to a kind of prison sentence with all that would entail; primitive accommodation, squalid facilities, unappetising food, little opportunity for recreation and exercise. The reality is very different, or at least it is here in the MSOCIAL on Quay Street overlooking Auckland harbour. It is an inescapable fact that in having to isolate a group of potentially infected people from the wider community, strict measures have to be applied. I personally react to these on two levels; respect and humble submission on the one hand, and a rebellious desire to break every rule in the book on the other. This is an ongoing conflict to which I can find no satisfactory resolution. When I do gingerly sally forth from my room, I feel a crushing oppression having to sanitise my hands every few yards, irritated by being admonished for touching or leaning against any object inadvertently, only to walk within marked lines, and to be ushered by personnel seemingly wrapped in carrier bags and wearing diving helmets. My reason tells me that all this paraphernalia is for the public good, but it does sometimes seem excessive. I am aware that there are those who view the whole predicament as intolerably restrictive, bordering on infringement on one's human rights. However, when you are living day to day faced with an international pandemic, reason prevails and the rules, no matter how seemingly petty, observed. I am impressed by the unfailing courtesy of the staff, of the many ancillary workers, the New Zealand Royal Air Force personnel and many others who are making what is an intrinsically unpleasant situation into something manageable and in some ways quite enjoyable. It is up to those of us in Managed Isolation to co-operate, be thankful, delve deep into our inner resources and, above all, not complain."
Tuesday, 2nd February, 2021
Today is Candlemas, the Feast of the Presentation of the Lord in the Temple. The child Jesus was taken by Mary and Joseph to the Temple and there, the devout old man Simeon, when he saw Jesus, felt that the promise that God had made to him that he would not die until he had seen the Messiah had come true. He responded by giving voice to 'song', the Nunc dimittis (Lord now lettest thou thy servant depart in peace, for mine eyes have seen thy salvation). In the Catholic tradition this song forms part of the daily office of Compline, or Night Prayer. In the Anglican tradition it forms part of Evensong and, musically, is generally paired with other great Canticle, the Magnificat. There are many beautiful settings of the Nunc Dimittis. Here is a fine one by Stanford:
Monday, 1st February, 2021
Last night saw the last of the Attenborough programmes. This time it explored the impact that mankind is having on the planet. Many of the statistics were quite shocking and some of the animal shots were quite moving. A criticism is often made of over- anthropomorphising animals, seeing human aspects in animals. This we can do when we watch wildlife programmes but not when we buy bacon in the shops. Perhaps more valuable in thinking about our role in relation to the planet and its future is to see us, not as separate from the animal kingdom, but part of it. After all, like us, all mammals have two eyes, two ears, a nose and a mouth. The programme tried to balance the pessimism (the currents in the ocean stopping because of polar meltwater, for example) with an optimism (building a line of trees across Africa, for example). Sadly, the pessimistic rather outweighed the optimistic.
Sunday, 31st January, 2021
Another organ piece by Bach today. This is a prelude on the chorale Ich ruf' zu Dir, Herr Jesu Christ – I call to you Lord Jesus Christ, a prayer of supplication. I learned this many years ago and it is a good piece for an aspiring organist to learn as it requires good coordination: the right hand and the left hand are both played on different manuals (keyboards) doing different things and the feet, too, are also following a different line.
Friday, 29th January, 2021
Be aware of a spam email doing the rounds. Yesterday, I received one supposedly from the NHS saying I had been invited for a vaccination. It looked very convincing, though I was immediately suspicious because it didn't come from my doctor's surgery. Initially I looked at it on my phone so I couldn't easily read all the details but when I looked at it on the computer screen I quickly saw that the originating email address was definitely not NHS, so reported it as a phishing scam. It is such a shame that at this time of great anxiety for us all there are some who seek to play on that for personal gain, that while so many – like those in the NHS – are giving so much to help vulnerable people – others think only of themselves. Be careful!
Thursday, 28th January, 2021
Today, we keep the feast of St Thomas Aquinas (1225 – 1274), one of the great theologians of the Church. To say he was a '13th century Italian Dominican priest' doesn't quite capture the importance of his influence in his own day or since. He travelled widely, teaching in universities in Paris and Italy and wrote prodigious amounts of densely argued philosophy and theology. Behind that, though was a life of prayer and a special dedication to the eucharist. It was on his travels that he took ill and died at the monastery of Fossanuova, south of Rome. In 1996, when I was in Rome, a group of us was invited to sing at the grand re-opening of the church at Fossanuova following a major restoration. On the way we were treated to a private visit to the wonderful Gardens of Nympha which, according to Wikipedia, have been described as 'the most romantic garden in the world'. They were certainly very beautiful.
Tuesday, 26th January, 2021
Mastermind, Only Connect and University Challenge, all three are excellent programmes but why must they all be on the same night one after the other? A bit of mental stimulation spread across the week might be more beneficial.
Monday, 25th January, 2021
There are a few phrases in the English language that derive from today's feast. We sometimes say that someone 'has seen the light' or that they have undergone a 'Damascene conversion'. Both idioms draw on the story of St Paul travelling on the road to Damascus and being blinded by the truth he had persistently fought against. To change one's mind is sometimes seen as a weakness. If politicians change their mind it is negatively described as a U-turn (even if it is the right thing to do). But there are times when changing one's mind, or seeing things in a different light, can be a transformative moment. Today's Feast of the Conversion of St Paul reminds us of this and, of course, it follows on from Jesus's command in yesterday's gospel to 'Repent and believe the Good News.'
Sunday, 24th January, 2021
The entrance antiphon for today is Sing a new song to the Lord. Sadly, there's not much singing going on at the moment. This text in the Latin Canticum Domino canticum novum has been set by many composers (including myself). This one is by Monteverdi:
Friday, 22nd January, 2021
In his Rule for Monasteries, St Benedict advised his monks not to read from the Book of Kings with its stories of wars and battles, late at night in case it disturbed their sleep. Today, he might advise against watching the 10 p.m. news or Newsnight. The grim statistics and reports from hospitals are certainly not inducive to calm slumber. We need to know these things but perhaps we need to ration our exposure.
Thursday, 21st January, 2021
Today is the feast of St Agnes, an early martyr about whom not much is known except that she was young, probably about twelve or thirteen. The young often see things with incisive clarity and can sometimes take determined action. The name Agnes derives from the Latin Agnus, for lamb, also an image of simplicity and vulnerability. Her sacrifice, made in faith, links with the sacrifice of that other lamb, the Lamb of God.
Wednesday, 20th January, 2021
An important, and perhaps slightly nervous day in America as its new President is inaugurated. During the pandemic – where the death toll seems inexorable both in America and here – there has been a noticeable lack of global cooperative leadership. There is some cause for optimism that this might now change, for the benefit of those in greatest need and for the health of the planet itself.
Monday, 18th January, 2021
Another excellent programme from David Attenborough last night focussing on the weather and, in particular, on the the importance of rain. One is reminded of the words from Psalm 64:
You care for the earth, give it water, you fill it with riches. Your river in heaven brims over to provide its grain.
Sunday, 17th January, 2021
Today is a of special prayer for peace. We pray for peace most Sundays when we sing or say the Gloria – peace one earth to people of good will. There are thousands of musical settings of the Gloria but this recording focuses just one the words calling for peace. The composer, John Purifoy, is from America, a country that will very much be hoping for peace this coming week.
Friday, 15th January, 2021
Things do seem rather quieter out and about and the moment, which is a good thing. It seems that the police are enforcing the stay at home rule (is that law or guidance?). I heard yesterday of a lady who was driving from Fordingbridge to Ringwood who was followed by a police car. The police stopped her and asked where she was going. She said she had to drop something off at the church in Ringwood and was then going shopping at Waitrose. The police told her she couldn't do either and had to shop at the Co-op in Fordingbridge. The police might be better employed focussing their attention elsewhere. Despite notices saying 'no mask no entry' a man was brazenly walking around Tesco express without a mask. All a question of balance and common sense but, sadly, common sense is often in short supply. In ordinary times I often drive out to the New Forest for a good walk but it looks as if that will have to wait.
Wednesday, 13th January, 2021
Liturgically, the church is now in Ordinary Time. Of course, things are anything but ordinary, though the fact that we have been living in extraordinary times for ten months does make it feel a bit ordinary. With the return of green vestments, our weekday readings have started to work through the letter to the Hebrews and the gospel readings with will focus on the start of Jesus' ministry when, of course, he made an immediate impression by doing extraordinary things. Someone else who played on the words ordinary and extraordinary was Mother Theresa who said, 'We may not be able to extraordinary things but we can do ordinary things with extraordinary love.'
Monday, 11th January, 2021
There is much enjoyment – and an uplift to the soul – to be had by watching the new Attenborough programme Perfect Planet. Exploring the total dependence of all life on the natural environment (last night the role of the Sun) is not only informative but offers an insight into the fragility and interdependence of all life. This understanding will hopefully lead to a renewed and urgent motivation to safeguard, protect and enhance the natural world that God has entrusted to us. I'm not so sure about the 20,000 snakes, though.
Sunday, 10th January, 2021
In a similar vein from to Friday's blog and celebrating today's feast of the baptism of the Lord, here is a very fine rendering of John Rutter's For the beauty of the earth. This distanced and remote performance by an exclusively youth choir not only celebrates the beauty of the creation but shows that the future of music is also in capable hands. Scroll down to the third video on this link:
https://www.harstonhauxtonnewton.org.uk/songsofpraise.htm
Friday, 8th January, 2021
With most of us in isolation, with travel severely limited, if not non-existent, with divisive political turmoil across the pond, it is perhaps wise to be reminded that the human spirit can rise above all this and reach out in common decency and collaboration. I came across this video quite by chance. It is very difficult not to be moved.
Thursday, 7th January, 2021
It says something when reports of the worst figures for the coronavirus to have been recorded are knocked off the top slot on the news. The events in Washington seem to have been brought under control but could have gone much worse. This could have ranked with the Storming of the Bastille or the Burning of the Reichstag. Hopefully, nothing else will happen in the next fortnight, though one imagines there might be some very nervous military personnel who might have to weigh up whether to disobey incendiary orders.
Calming words from the today's communion antiphon, words which we normally associate with Holy Week: God so loved the world that he gave his only Son, that all who believe in him might not perish but have everlasting life.
Wednesday, 6th January, 2021
Today is the Feast of the Epiphany. The word 'epiphany' means 'showing' and this feast celebrates the theological concept that in the Infant Jesus, God himself is 'shown' to us. It is also, of course, a feast that recalls the visit of the Three Kings, or Wise men. This lovely piece by the 19th century German composer Peter Cornelius is fitting for today:
Tuesday, 5th January, 2021
The Prime Minister's announcement last night of a new national lockdown was not unexpected and was clear: 'Stay at home'. The clarity was, however, a little muddled by a visit to the Government website (gov.uk) to see what the regulations for churches would be. Rather surprisingly, communal acts of worship are still allowed. This seems to go against the 'stay at home' directive and is more relaxed than in the November lockdown. The local circumstances are, however, determinative. The infection rate in BCP on 30th December was 450/100K but, alarmingly, the infection rate in Westbourne and West Cliff was over 800/100K. Last week I decided that the church would only be open for individual visits on Sundays from 9.30 – 11.00 a.m. and this arrangement will continue. Keep safe.
Monday, 4th January, 2021
We tend to think of Jesus in his adult, public ministry but today's gospel gives us a rare glimpse of Jesus beforehand. We are told that John the Baptist pointed out Jesus to two of his disciples, one of whom was Andrew, who subsequently went and told Peter that he had found the Messiah. Andrew and his companion, on meeting Jesus, asked, "Where do you live?" Sadly, we are told no more about where Jesus lived, the type of building he lived in, or the practical, homely arrangements. Jesus invited Andrew and his companion to "Come and see" but, of course, what they saw was not so much where he lived but how he lived.
Sunday 3rd, January, 2021
At the start of this New Year and still in the celebratory mode of Christmas an expression of joy is not inappropriate. Bach wrote an organ prelude specifically for New Year's Day called In Dir ist freude – In you is joy:
Saturday, 2nd January, 2021
A feature of the New Year's Day for many is the annual concert from Vienna. The televised programme usually includes scenes of the beautiful Austrian countryside and well-kept Baroque buildings. This year, of course, the orchestra (subject to daily covid testing to allow them to sit together) was rather poignantly playing to an empty hall, the magnificent Golden Hall in the Musikverein. I once was taken into the hall on a visit but it was being renovated so was very dusty but I was shown into a smaller concert room and was allowed to play on the piano there where Brahms played. The conductor of yesterday's concert, Ricardo Muti, spoken in excellent English about the importance of music and the arts in the well-being of society and expressed the hope that policy makers will give the arts a prominent place in the rebuilding or re-shaping that will take place following the pandemic. After the Second World War the new Austrian government, amid so much other reconstruction, did precisely this and to this day virtually every small town has its own Music School for all. Amateur music-making thrives in Austria which surprisingly, given the history of Haydn, Mozart and Schubert, was not the case before the post-War initiative. Sadly, in this country, music provision in schools has been much reduced. Although there is much amateur music making in this country it is not guaranteed that this will continue on to future generations.
Seeing the empty concert hall was rather like seeing empty churches. The hall may have been empty but apparently 70 million were watching or listening from around the world. Similarly, when we pray alone we are with the praying church around the world.
Friday, 1st January, 2021
A Happy and Blessed New year to everyone.
The following comes from today's mass:

May God, the source and origin of all blessing,
grant you grace,
pour out his blessing in abundance,
and keep you safe from harm throughout the year.
R. Amen.

May he give you integrity in the faith,
endurance in hope,
and perseverance in charity
with holy patience to the end.
R. Amen.

May he order your days and your deeds in his peace,
grant your prayers in this and in every place,
and lead you happily to eternal life.
R. Amen.

And may the blessing of almighty God,
the Father, and the Son, X and the Holy Spirit,
come down on you and remain with you for ever.
R. Amen.
Sunday, 27th December, 2020
Today is the Feast of the Holy Family. It is also the feast of St John the Evengelist, the gospel writer whose testimony is perhaps the most theological and mystical. The themes he writes of have surely inspired many other writers, perhaps even the 5th century writer Prudentius who wrote the words to the wonderful Christmas carol: Of the Father's Heart begotten. This is a very good setting (with the words):
Sunday, 20th December, 2020
The entrance antiphon for the Fourth Sunday of Advent, in the Latin is Rorate caeli desuper. This sets words from Isaiah Let the clouds rain down the Just One, and the earth bring forth a Saviour. There are many fine musical settings but this one, by the American composer Leo Nestor who died last year, rather beautifully marries the plainsong original with reflective harmonies. It makes for contemplative listening, perhaps much needed at this anxious and unsettling time.
Sunday, 13th December, 2020
Today is Gaudete Sunday, not to be confused with the Christmas Carol Gaudete Christe est natus which rejoices the fact that Christ is born. Today's Advent Gaudete entrance antiphon is Rejoice in the Lord always, again I say rejoice. A nice English setting of this verse is by an anonymous composer from the 16th century. Today, is also St Lucy's day – a day of light. Lucy comes from the Latin Lux = light.
Sunday, 6th December, 2020
The reading from today's mass has words from the prophet Isaiah, echoed by St John the Baptist, which are set at the beginning of Handel's Messiah, especially this passage:
Saturday, 5th December, 2020
The Advent and Christmas readings and imagery often give a picture of animals living in peace together: the lion and lamb, for example in Isaiah. Last night there was a wonderful programme on BBC2 about a waterhole in Tanzania that had been specially created so as to observe animal behaviour. The animals – a large number of them – soon found their way to the water and although they may not have been living in total peace and harmony, they did seem to have a respectful accommodation of each other. One nasty thing, though, were the small flesh-eating ticks that can stick to a blade of grass and then brush off on a passing animal or human. When I was in Uganda once, I remember being told that you should not wear clothes that have been dried in the sun unless they have been thoroughly pressed with a steam iron. Apparently, there is a tiny tick that gets onto the clothes and when you put the clothes on it buries itself into your skin and causes havoc. The steam ironing kills them. So, perhaps not all peace and harmony in the garden of Eden. Next week's episode from the water hole will be interesting.
Wednesday, 2nd December, 2020
Three weeks ago my credit card was inexplicably declined in M&S. Since then I have spent hours on the phone (mostly on hold) and three personal visits to the bank, the last one taking a full hour at the counter. I was then told it would take nine days for the card to be reactivated. I waited ten working days – just in case – and this morning it did, finally, work. A huge sense of relief. The reason for this fiasco? Fifteen years ago I spent a sabbatical period in Austria and had a temporary European correspondence address for the card (this was before internet banking). Although that address was no longer visible anywhere to me on the system or to the assistant at the bank, some hidden computer marker kept flagging up my card as being a European card. Under the imminent Brexit arrangements this is not allowed. Quite why it took nine days to reset the card escapes me but hopefully I have won brownie points for patience. For all my trouble I did get £25 as a goodwill gesture. This story serves as a warning to anyone who might have had any European banking or card arrangements in the past. It also makes you wonder if, something as relatively trivial as this can happen – and whatever view one takes of Brexit – what other gremlins are likely to cause chaos in a few weeks time.
Sunday, 29th November, 2020
The Entrance antiphon for today, the First Sunday of Advent, is To You, O Lord, I lift up my soul, or as it is in Latin: Ad te levavi anima mea. The prayers and readings today are about looking to God and being on a journey towards God's presence. Of course, Advent is not just about our moving towards God but about becoming ever more aware of his coming to us (Advent, from Advenire = to come towards). Palestrina set the words of today's entrance antiphon:
Friday, 27th November, 2020
Last night, BBC4 showed the film Brief Encounters on the seventy-fifth anniversary of its first showing. Rather surprisingly, I had never this film. It was certainly a journey back in time being in black and white, and with steam trains and the style and layout of stations that I just about remember. The cut-crystal accents, even of the children, seem very dated now. One good thing was the opportunity to focus on a particular scene. In today's films and television each shot lasts about two seconds; in these old films you get a shot lasting several minutes, which is much more relaxing and satisfying. Trevor Howard always seemed an old man to me but he was actually only thirty-two when he made this film. One imagines that a similar story made today would be much more indulgent and there might not be a place for the final, if painful integrity that the couple showed.
Thursday, 26th November, 2020
Thanksgiving Day. Our best wishes and prayers for those celebrating Thanksgiving in the United States at this difficult time. Last night there was an interesting programme on BBC4 about the Mayflower and the early pilgrims who set off from England for a new life in North America. Some years ago when visiting New England I went to the re-created settlement (seen in the programme) and went on board the replica of the Mayflower. The replica may not be full size but even so the journey must have been horrendous in crowded and unsanitary conditions. The first year for the settlers was very hard and it was only with the help of the locals that they managed to get through to the second, for which they gave thanks. 'Thanksgiving' is an essential element to our Christian way of life as can be seen by the fact that the Eucharist – the summit of our sacramental life – is an act of thanksgiving. The word 'Eucharist' comes from the Greek word meaning 'to give thanks'.
Tuesday, 24th November, 2020
Good news from the Government which means that public celebration of mass (albeit with the strict limitations we had previously) can resume whatever Tier BCP may be put in. It is also clear that, despite the welcome news about vaccines, we will have to live with these restrictions at least until at least the Spring. At least some clarity.
Sunday, 22nd November, 2020
Today is the Feast of Christ the King. The great ancient Latin hymn the Te Deum contains the verse Tu Rex Gloriae, Christe often set to music. Here is a setting by Dvorak:
Wednesday, 18th November, 2020
There is an interesting new advert for MacDonalds on the TV. It cleverly shows how a young uncomfortable teenager's internal thoughts and feelings don't match his external macho expression and behaviour. How true that we all sometimes wear a mask but perhaps just as well that we don't have a window that others can look through. Of course, the ideal is that there should be no duplicity but an integrity to all our thoughts and actions.
Tuesday, 17th November, 2020
Today's gospel tells the story of Jesus entering Jericho (Luke 19: 1-10) and how the small Zacchaeus climbed a tree in order to see him. On my one visit to the Holy Land some years ago our itinerary took us towards Jericho and I was hoping to see something of this town which, I believe is the oldest town in the world. Our tour was led by a well-informed Jew and our driver was a Palestinian and the two seemed to get on tolerably well. However, as we approached Jericho the guide waved his hand and said 'that's Jericho' on the left' as we drove straight on. Later, I asked the driver why we didn't go through Jericho and he said that it is largely a Palestinian town and 'the guide doesn't like us'. The gospel story of Zacchaeus is much more about reconciliation and forgiveness than trees and the city of Jericho. If we couldn't see Jericho it would have been nice to have seen something of that.
Sunday, 15th November, 2020
Over the last few weeks there has been a political television drama called Roadkill. It was not quite as gripping as The Night Manager (which also starred Hugh Laurie) but one really good thing was the music – quite exceptional – by a composer new to me, Harry Escott. He may be a composer of film and television scores but a little research shows he has also written an interesting piece O Light of Light, a reworking of a piece by the Tudor composer Thomas Tallis O Nata Lux (which I have sung and conducted many times). Both pieces are worth listening to.
This is the Escott:
and this is the Tallis:
Saturday, 14th November, 2020
In these dark and gloomy days we are all in need of some light and positivity. For some the Festival of Diwali – a festival of light – will help lift the mood… However, a flashing Christmas Tree, decorations and Merry Christmas signs in the entrance at Tesco Express does seem a little premature.
Wednesday, 11th November, 2020
Today's first reading from the letter to Titus says, "Remind your people that it is their duty to be obedient to the officials and representatives of the government; to be ready to do good at every opportunity; not to go slandering other people or picking quarrels, but to be courteous and always polite to all kinds of people." I am sure we can all think of some people we would like to hear these words and they seem particularly apt in an age of the less encouraging aspects of social media. Of course, these words were as apt in St Paul's time: he wouldn't have needed to write them if people were already behaving perfectly. There is, as they say, nothing new under the sun.
Tuesday, 10th November, 2020
Good news about the vaccine but, as ever, the media do seem to over-hype things. Things will certainly not be back to normal by Christmas and even by Spring is being over optimistic. Masks and distancing will be around for a good while yet. But I suppose it makes for good headlines.
Monday, 9th November, 2020
'President-Elect Biden attended Mass.' To many of us these words are encouraging as they hopefully usher in a new period of dignity and integrity befitting the holder of a great office of State – the sort of dignity and sense of duty shown yesterday by the Queen on Remembrance Day. Mr Biden attended Mass because of his life-long faith not out of any political expediency. He will, of course, be a President who is Catholic rather than a Catholic President, as I think President Kennedy said of himself when he was elected. He has much to do.
Sunday, 8th November, 2020
Although there is much going on in the world at the moment today, being Remembrance Sunday, our reflection should be towards the sacrifices others made for our freedom. Elgar's Nimrod is surely a suitable piece to aid that reflection.
Friday, 6th November, 2020
Last night there was a harrowing story on Channel 4 news about a family in Wales that had suffered three bereavements from the coronavirus in a few days and now faced the prospect of a triple funeral. An elderly man had lost his wife and two sons and ten other members of the extended family had also had the virus. The news gives us just a figure – now running in to several hundred – of the daily deaths due to the virus. Each death is a unique human story, the loss deeply felt. This Sunday is Remembrance Sunday when we recall the sacrifice made by many in the various conflicts of the distant and recent past. Again, each of those deaths, reported at the time as a statistic, was also a unique and personal story. November is a month when we traditionally pray for the dead and our prayers seem much in need at this time.
The Channel 4 Home Editor who reported the story, Andy Davies, was in an O Level Scripture class that I taught, many years ago.
Thursday, 5th November, 2020
In today's gospel Jesus tells the parable of the woman who lost some coins and searched high and low till she found them. The coins in question were, most likely, not just a few coppers but part of her wedding headdress, so something of real value and that she is really happy when she finds it. The point of the parable is that the Lord is truly happy when someone who is lost is found. Sometimes we don't know what it is we have lost either as individuals or as a society. There's a lot that has been lost at the moment (around the world) but hopefully it can be found or rediscovered.
Wednesday, 4th November, 2020
Today's gospel has the striking words of Jesus that no one can be his disciple unless they hate their father, mother wife, etc. This is a difficult passage but what it isn't is an incitement to hatred. We need to remember that Jesus often used the hyperbolic language common to teachers of the time to emphasise often the opposite or to stress the demands of something else. He goes on to say that no one can be his disciple unless they carry their cross. The image of separation from family is there to give extra weight to this second statement about carrying the cross of sacrifice. Following Jesus may involve a measure of sacrifice that might cut across other natural demands and affiliations. Underpinning both is the love of God (our love for him and his love for us) which informs and gives meaning to all other manifestations of love which in turn derives from it.
Tuesday, 3rd November, 2020
At weekday mass we are currently reading through St Paul's letter to the Philippians and today we have the wonderful passage often referred to as the Great Christological Hymn (Phil 2: 5-11). Here St Paul explores the mystery of who Jesus Christ is, what he has done and how we should respond. This passage has been paraphrased in the popular hymn At the name of Jesus every knee should bow. Both the hymn and today's passage are worth contemplating as it gives an important orientation or anchor point amidst so much fluidity.
Monday, 2nd November, 2020
Whatever view on might have as to the necessity for, likely efficacy of or timing and duration of the new lockdown, it is where we are. We have been here before, though not quite. Last time, hard as it was, we were blessed with some glorious weather but this time we have miserable weather and long dark (and still darkening) evenings. The next four weeks (at the very least) will be challenging. This is a challenging time for those who have been infected with the virus, are suffering its physical ravages, for others who have serious illnesses, and for those working flat out in the health and care professions. It is a challenging time for those who may not have the virus, but face the prospect, or the reality, of financial uncertainty, hardship or worse. It is also a challenging time for those who may not have the virus, nor face financial insecurity but are struggling with issues arising from loneliness, isolation or general depression. It will be important over the next few weeks to keep in touch with family, friends and others. It will also be important to keep in touch with the Lord.
Over the last two months we have, in the parish, tentatively but effectively opened up for the public celebration of Mass, albeit with restrictions. This has worked well and has been much appreciated. Sadly, the new measures mean that the public celebration will (from Thursday) be suspended. I shall, of course, continue to say mass privately but our booking system can be up and running again very quickly once restrictions are lifted. In the meantime, many will already be joining other communities via online masses.
This time round the Government is allowing churches to be open for individual visits for prayer and our church will be open from 10.00 a.m. – 11.00 a.m. every day except Mondays and Saturdays. It will, however, be open exceptionally today, Monday 2nd for All Souls Day from 10.00 a.m. to 11.00 a.m.
I hope that starting the blog once more may offer some measure of connectedness at this time. I may not be able to keep it up every day but do check in from time to time.