Tuesday, 30th June, 2020
Rain at the end of June – must be Wimbledon. Well, there's rain today but for the first time in my lifetime there is no Wimbledon. They will show some old matches which will provide the opportunity to see how things have developed over the years – the old courts, the changing hair and dress styles and, indeed, the game itself. By the second week of Wimbledon the grass was always worn both at the base line and closer to the net – not any more; now the grass is only worn at the base line. We often look back nostalgically at things but things never stay the same. In philosophy that is called the Heraclitan flux: the ancient philosopher Heraclitus wondered if a river, because it was flowing, could ever be the same river or, as he said, ' No one can ever step into the same river twice'.
Monday 29th June, 2020
The words 'you' and 'your' can be used to many different effects. The weather forecast this morning ended, 'that's your weather'. Why 'your' weather? It's not mine, I don't own it, I can't change it. More annoying are the adverts for some competition that, instead of talking about what the winner will get say, 'You will spend three nights at a luxury hotel…' No I won't because I'm not entering the competition and wouldn't win anyway. Our Lord used the word 'you' quite a lot but to quite different effect: 'you are worth more than many sparrows' – meaning each of us is of unique and special importance to God. 'Love your neighbour as yourself' – meaning others come before you but also you should love yourself because God loves you. Jesus' language is a world away from the 'me' culture of adverts directed at 'you'.
Sunday, 28th June, 2020
Today we celebrate the Feast of Saints Peter and Paul (transferred from tomorrow). Central to this feast are the words of Jesus, 'You are Peter and on this rock I will build my Church' or, as it is in Latin, 'Tu Es Petrus' words set to music beautifully by Palestrina. I used to sing this piece when as a sixth former I sang bass (I never sang as a boy treble – I served on the altar instead).
Saturday, 27th June, 2020
Yesterday, I went into the centre of town to go my personal bank (Barclays). I asked when the Westbourne branch will be re-opening. Apparently they have the same problems as we do with the church. It is not a big branch and there is limited space for social distancing and they would need two extra staff just to marshal and there are concerns for lack of space for the staff behind the counter. I only went into the main branch because the app on my phone just will not take photos of the back of any cheque I want to pay in.
Friday, 26th June, 2020
Apologies for not having posted anything for a few days. Yesterday, I had my first social outing since the lock down. I drove over to Fordingbridge to sit in the garden with my fellow parish priest and to catch up, and very pleasant it was. The lock down has been challenging for so many people and the lack of social contact has been hard. As I set off to drive to Fordingbridge I noticed exceptional levels of parking in Portarlington Road – a sure sign of heavy crowds at the beach. Even at 3.00 p.m. the traffic heading into Bournemouth down the A338 and back beyond Ringwood was unusually heavy. Having seen the appalling pictures of Bournemouth beach on the news, my sister rang me to see if I was alright! It beggars belief that so many people can be so daft. Why do lemmings come to mind?
On a more positive note, today is the 38th anniversary of my ordination.
Monday, 22nd June, 2020
How refreshing! The 8.10 slot on the Today programme is generally considered to be the important slot of the programme with an influence on the thinking of policy makers and the public alike. This morning the slot was given over to Pope Francis and his thinking on how the pandemic is an opportunity for a major re-think or re-set of so much. How politics should (must) replace hypocrisy with integrity, how we should all re-set our approach to and appreciation of the natural world, and to see that a crisis may be a moment of danger but it is also a moment of opportunity. It is encouraging that Radio 4 is airing a range of programmes exploring the changes that the pandemic is bringing and to do so in a non-partisan, non-adversarial way, Long may it continue.
What may not continue is the daily nature of this blog. I think I have managed to write something every single day since the lock down but I'm not sure I can keep the momentum up on a daily basis. I will continue to post if I have something to write but it may not be every day from now on. But keep checking in.
Sunday, 21st June, 2020
Sparrows. In today's gospel Jesus talks about sparrows and says how each of us is worth more than hundreds of sparrows. There must have been many sparrows in Jesus' time. You hardly see any sparrows today, though when I was a boy they were quite common. My grandmother told me that when she was a small girl (early 1900s) they used to have sparrow pie! Her grandfather was a gardener on a country estate and, while he would not be allowed the pheasant or game, he was allowed to catch and have as many sparrows as he liked. It must have been quite a palaver to prepare the sparrows for a pie though. (Google sparrow pie).
Saturday, 20th June, 2020
Following yesterday's feast of the Sacred Heart, today we have the related feast of the Immaculate Heart of Mary, which was the dedication of my home parish. In that church there is a very fine, and very large, painting by the Italian artist Pietro Annigoni :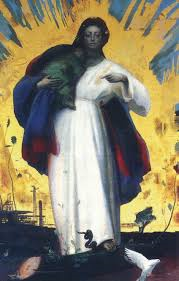 As a young boy I was present at the unveiling of this painting:
You might spot me at 0.24 and at 0.32.
Friday, 19th June, 2020
The heart is often used as a symbol of love, usually romantic love, but as all love derives from God's own nature – God is love – the symbol is also appropriate when contemplating the human incarnation of that divine love. Hence today's feast of the Sacred Heart of Jesus. Jesus himself made only one significant reference to his heart, found in today's gospel, when he says, "Shoulder my yoke and learn from me, for I am gentle and humble of heart". Gentleness and humility are a good foundation for the expression of self-less love.
Yesterday saw the death of Vera Lynn. I was rather surprised how emotional I felt when it was announced on the radio. Like the Queen, she was one of those few people who have always been there and she always came across as someone of integrity and wholesomeness.
Thursday, 18th June, 2020
One does sometimes feel that the news, as reported on the TV, is rather insular. Occasionally there is some reference to elsewhere in the world but not in any great depth or meaningful comparison. But we are in the midst of a global pandemic and it would be useful to know a bit more of what is going on elsewhere. As I noted before, the global nature of the pandemic really merits a global response but that doesn't seem to be happening. In trying to find out more there are various sites: The BBC does have a world coronavirus map but it's not that informative. Reuters.com sometimes has a rather better one. But the most informative one I came across recently is this one: https://www.worldometers.info/ This is particularly informative on the coronavirus and you can go in depth into each country, as well as get a general picture. The homepage of the site also carries an amazing set of statistics in 'real time' which is really quite diverting.
Wednesday, 17th June, 2020
I'm sure I'm not alone in enjoying the re-run of Downton Abbey, currently on ITV3. There is a different feel from being able to watch an episode a day rather than one a week for a short period over several years, as when it was first shown. At this pace, the changing of attitudes comes into sharper perspective. Of course, not all the characters changed their attitudes, or were slow to do so. The Earl and the butler are both particularly old school whereas all the ladies, including on occasions Maggie Smith's character, are much more open to change. There's the obvious element of class and deference but also of religion. In last night's episode the vicar was left looking completely out of date as he tried to defend the notion that God was really an upper class English gentleman. This follows the death of Lady Sybil and the desire of her widowed Irish husband, the former chauffeur, that their child be baptised a Catholic, much to the consternation of the Earl. This takes place just a couple of years after the First World War which left lots of people wondering what 'it was all about'. Attitudes to so much were quite radically changed. We are not going through anything like the First World War but we do seem to be going through, not only a time of crisis on many levels, but a time in which attitudes to so much are being challenged and so quickly and I suspect there's more to come. With Downton, of course, we know how it all turned out.
Tuesday, 16th June, 2020
Today the church commemorates St Richard of Chichester, an English born saint of the 13th century who was tutored and influenced by our own Diocesan Patron, St Edmund of Abingdon.
The words of the prayer are quite simple:
O holy Jesus,
Most merciful redeemer,
Friend and brother,
May I know thee more clearly,
Love thee more dearly,
And follow thee more nearly.
This a very fine setting :
Monday, 15th June, 2020
There's some surprising pieces of information you can pick up from just having the radio on the in the background. My ear pricked up when I heard someone say that every breath we take contains a particle that will have passed through the lungs of everyone who has ever lived and similarly that a particle from our own breath will continue to exist in the atmosphere. Obviously this particle is infinitesimally small. The speaker was making the point that through our breathing we are connected in some small way with those near and dear to us who may have died. Unfortunately it also means we are connected in this way with all the bad people who have ever lived. And not just people. It is true for any breathing creature that has ever lived. However, it is one of those things that can just make you think for a bit. Maybe the author of the Psalm 150, in writing the last line of all the psalms was already thinking along the same lines: 'Let everything that lives and that breathes give praise to the Lord.'
Sunday, 14th June, 2020
Today is the Feast of Corpus Christi and there are many hymns, or sacred texts, related to the Eucharist. One such is the Ave Verum Corpus from the 14th century. The text is as follows:
Hail, true Body, born of the Virgin Mary, having truly suffered, sacrificed on the cross for mankind, from whose pierced side water and blood flowed: Be for us a foretaste [of the Heavenly banquet] in the trial of death! O sweet Jesus, O holy Jesus, O Jesus, son of Mary, have mercy on me. Amen.
There are many musical settings, generally using the Latin text and not necessarily all of it. The setting by Mozart is probably the most famous, but Byrd also wrote a beautiful setting. Other composers also set it: Lassus, Elgar, Saint-Saens, and Liszt and even myself. One setting you may not have come across but is well-worth listening to is by the French composer Francis Poulenc:
Saturday, 13th June, 2020
Queues. We in this country have a reputation for being quite good at queues. I remember being told that this goes back to the First World War and that before that there was generally just a scrum. We are having to get used to more queues now but when we stand in a queue we generally look in the forward direction, to see how fast the queue is moving and how long we will have to wait. Once inside, (if we have been waiting outside a shop) we are not likely to look back at the queue or think about it. We can then busy ourselves with whatever it is we want to do with little or no concern for those still waiting. It is extraordinary how complex and time-consuming, some people's business in the Post Office is.
Friday, 12th June, 2020
We are all familiar with the hymn Dear Lord and Father of mankind. The last verse has the line, 'speak through the earthquake, wind and fire, O still small voice of calm'. This is a reference to a passage from the first Book of Kings (1 Kings 19) in which Elijah was responding to a call to find the Lord but couldn't find him in the dramatic (the earthquake, wind and fire) but did find him in the 'still small voice'. As it happens, this is the passage that forms the first reading in today's mass. There is a lot of the 'earthquake, wind and fire' in our turbulent times and the 'still small voice' can so easily be drowned out. We need to listen out carefully for it – or even listen inwards carefully.
Visit the Homepage for information regarding the re-opening the church for individual prayer.
Thursday, 11th June, 2020
I have often been asked who my favourite composer is. Being a musician, I don't have one. There are some composers I like or admire more than others but I find richness in the work of so many. There are some composers who, through their music, can conjure up an image or an expression of something in a very fluid and flexible way, quite different from a military march with its strong four square pulse. One such composer is Debussy whose music is very impressionistic. One thinks of L'Apres midi d'un faune or the larger orchestral work La Mer. However, the vague impressionism that we might hear is in reality anything but vague. In the score there is actually incredible precision, complexity and attention to detail which musicians, and especially the conductor, have to realise in their performance. The Prime Minister might do well to study Debussy's compositional technique. Not for the first time he has been vague in making or changing announcements. The re-opening of churches was originally 'not before 4th July', then last week that was altered to 'from 15th June' and then yesterday he said 'from this weekend'. The 're-opening' of anything in the present circumstances is complex; it is not just a matter of opening the door. One can understand the frustration that other businesses and activities have been feeling and one hopes that this vagueness is not reflected in other aspects of the Government's way of doing things. The Orchestra cannot play Debussy properly if the conductor is not clear and certainly if he doesn't know the score.
There will be more on the re-opening of the church shortly but in any event, it will be next week, not this weekend.
Wednesday, 10th June, 2020
In ancient Greece actors used masks to indicate the character or persona they were representing. Masked balls were once popular where people moved freely incognito. More recently we would be used to seeing people wearing masks in some medical situations, in dentist surgeries and in nail bars. But most of us – until now – would not have felt comfortable with seeing people being masked up and would have felt self-conscious wearing one. Of course, we all wear invisible masks from time to time, to disguise or hide emotions we might not want others to see, to prevent people seeing what we might really think. Perhaps we even wear invisible masks to prevent ourselves seeing some unpleasant truth about ourselves. With the Lord, of course, we can remove those masks – and he sees straight through them anyway. However, at this time of pandemic, the wearing of physical masks is now seen as desirable if not essential. Pictures from around the world show people wearing them, although some people curiously have them on but don't have them covering their face. And humans all like to be different in some way and so masks have become an opportunity for fashion and more. My sewing machine has been at work and I now have a number of masks available for anyone who may be interested. Go to the Face masks page to have a look.
Tuesday, 9th June, 2020
Supermarkets – where would we be without them? They have done a very good job over the last few months. After the initial panic buying – which wasn't their fault – the stores now seem fully stocked and the systems work well. The staff deserve praise for their consistency and hard work. There are, of course, some frustrations about supermarkets. There are some things you can get in one, but not the other. If there is one person in an otherwise empty aisle, they will nearly always be standing exactly in front of the one item you want. And if there is just one item you want it will often be out of stock. One slightly worrying thing to note: In M & S a significant number of customers will be wearing masks – I would say about 40 to 50%. Yesterday, in big Sainsbury's in Alder Road, hardly anyone was wearing a mask – about 10%. I felt very self-conscious wearing one. Does this reflect a 'regional' difference? Surprisingly, the staff in the supermarkets generally don't seem to wear masks. More on masks tomorrow.
Monday, 8th June, 2020
The weekend papers are, as ever, full of advertisments. The Saturday edition of The Times had a vast section on travel, which I suppose offers a bit of escapism from current worries. There's no harm in a little day-dreaming – 'wouldn't it be nice to go there' sort of thing. But in reality they do seem a little over optimistic. Would it really be sensible to put down a large deposit on a cruise departing in April 2022!
More immediate is the question of home schooling and The Sunday Times had a pull-out section for Years 1 – 6. This must prove a challenge for parents. I couldn't understand the Maths questions for Year 5 yet alone work out the answer. One does assume, of course, that everything that is being taught is correct. I would take issue with the Year 4 music lesson which says that a minim is slower than a crotchet. It isn't; it is twice as long which is quite a different thing. The Year 6 history lesson says that capitalism is a system 'in which individuals can privately trade with each other and make as much money as they like'. That may be how some people operate within capitalism but it's not quite as simple as that. The Year 5 lesson on religion looked at Buddhism. Now, there may have been a previous lesson but this one did not mention anything about belief. It described what Buddhists do but not what they believe. It would be a bit like saying: 'Christians go to a building called a church. Some are called Catholics and others Protestants'. However, this is only a supplementary offering from The Times and I'm sure things are different in an actual classroom. It is not just children who need to learn and be educated. We all need to discover new things and come to understand old things in a richer and deeper way. The best of teachers, of course, was Our Lord.
Sunday, 7th June, 2020
Today we keep the Feast of the Blessed Trinity and, as per usual on a Sunday, there is a piece of music that is appropriate for reflection. Not by me, but by Hildegard of Bingen the 12th century German nun, mystic and composer. The Latin words of the piece are translated thus:
Praise to the Trinity—the sound and life and creativity of all within their life, he praise of the angelic host and wondrous, brilliant splendour hid,unknown to human minds, it is,and life within all things.
Please remember in your prayers Allan Coombes who died last night. May he rest in peace.
Saturday, 6th June, 2020
Social distancing – or is that sexual distancing? There are distancing signs springing up all over the place and, generally, the signs are unisex. But this one at Branksome Dene seems to suggest that it's not people in general who should keep apart but men and women!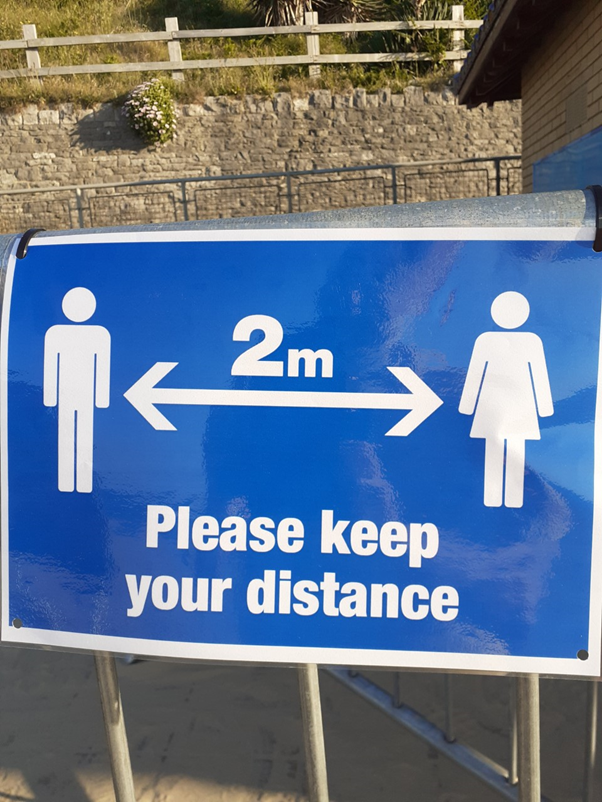 Friday, 5th June, 2020
We are back to more typically British weather, weather that is generally changeable. That's why the first thing most of us do in the morning is to look out of the window to see what the weather is like. The weather is also thought to explain aspects of our national character: largely tolerant and adaptable. As the country emerges from the lockdown those characteristics will be put to the test rather more than we may feel comfortable with. Unlike the weather, the situation we now find ourselves in is not changeable but changed, and radically so. Apart from going to the beach when it is sunny, nothing we do is going to be done in quite the same way as we did it before. We have already got used to queues for the supermarkets, post office etc. but as shops prepare to re-open there will be more queues, more restrictive / protective measures. (And that's going to apply to the Church as well.) The Government is clearly finding this a difficult transition period, as we may too. It may not only be the weather that will be unsettled; we may all feel a little more unsettled too. We have just celebrated the coming of the Holy Spirit at Pentecost and we shall need the comforting (strengthening) character of the Holy Spirit to be with us even more at this time.
Thursday, 4th June, 2020
In the late 1960s there was an episode of Star Trek in which Captain Kirk found himself mediating in a civil war on a distant planet where two races had been tearing themselves apart for centuries. Both races had slight superficial differences in appearance. One race had black skin on the left side of its body and white on the right; the other had white on the left and black on the right. Needless to say, Captain Kirk managed to sort it all out. The early episodes of Star Trek, though set in the distant future were, of course, commentaries on the present. This episode, which I remember quite distinctly, obviously arose out of the racial problems in America in the 1960s, especially 1968. There was also another episode set on a planet where the female of the humanoid species completely dominated the male. St Paul got a handle on things a long time ago when he was writing to the Galatians with words of enduring relevance: "There is neither Jew nor Greek, there is neither slave nor free man, there is neither male nor female; for you are all one in Christ Jesus."
Wednesday, 3rd June, 2020
About ten years ago the doctor insisted that, as my cholesterol was too high, I should radically change my diet. He was quite strict: no butter, no cheese and so on. I have generally followed that advice/instruction, albeit in a Dominic Cummings sort of way. Over the years I have bought very little butter, opting for the cholesterol-lowering spreads. I have made scrambled eggs in a non-stick saucepan, perhaps with a splash of milk. But the other day, because I happened to have some butter, I made some scrambled eggs with a small knob of butter. What a difference! I had forgotten just how delicious scrambled eggs can be if made properly. It just shows how little things: a smile, a 'thank you', or a little tolerant patience can make a big difference. By the way, is it just me, or are eggs getting smaller and smaller?
The reason I had some butter was that since flour is now available I decided – along with millions of others – to have a go at some home-baking. I haven't made a cake in probably thirty years but I made a passable lemon drizzle cake. It sank a bit in the middle but it tasted very nice. I had forgotten the satisfying smell of home baking. However, I may not make another one. The sight of the amount of butter and sugar all measured out was quite sobering.
Tuesday, 2nd June, 2020
For the first time in several months now the main news was not about the virus. Channel 4 news gave a full twenty minutes to the situation in America. A relief in some respects perhaps but a salutary reminder that, for all its constrictions, the virus is not the only story in the world, nor even the only dangerous story in the world. The events in America are serious and worrying, so much so that it has led to non-socially distanced demonstrations in London and elsewhere. However, this potent and indiscriminate the virus impacts upon everything. Even this latest manifestation of a tragically age-long problem of social division in America is being played out against the backdrop of the virus. Seeing news that was neither exclusively British nor directly virus related made me wonder about the other stories we have been hearing nothing about. Where is Jeremy Bowen, Orla Guerin or Lise Ducet? The Middle East, Syria, Libya haven't gone away but maybe travel restrictions make it impossible to report from those places. Indeed, the problems in those areas have almost certainly been made worse by the virus and no less deserving of our attention and prayers. St Paul once noticed that the Greeks had a temple to an unknown God. Maybe we need to offer a prayer specifically for that which is unknown, for what we don't know we need to pray about – or the people we don't know we need to pray about.
Monday, 1st June, 2020
Today, the Church returns to Ordinary Time (9th week) liturgically at least. Things are, of course, far from ordinary whether that be in the church or across the world.
Further to my beach concerns on Saturday (echoed by the BBC News last night) the following picture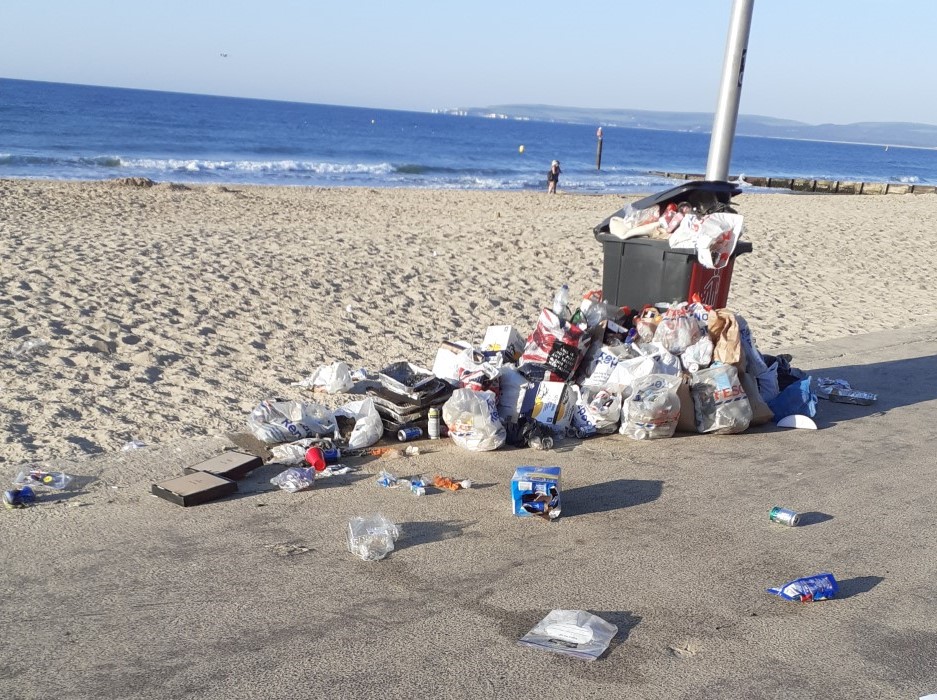 was taken at 7.00 a.m. on Sunday. On Saturday afternoon the side roads off Alumhurst Road were packed with cars and there seemed even more people on the beach. Every day now seems like a Bank holiday. In wondering whether this is appropriate or wise I find myself asking: Am I being mean-spirited or reasonably concerned? Am I being hard-hearted or understandably anxious or nervous? Am I being ungenerous or motivated by a wider social concern? Probably all of the above but certainly uncomfortable. At least Jesus made the disciples clear up thoroughly after the feeding of the five thousand. By the way, the toilets at Alum Chine are still closed, so the picture doesn't tell the whole story.